GreenVPN Is the New Victim of China's VPN Crackdown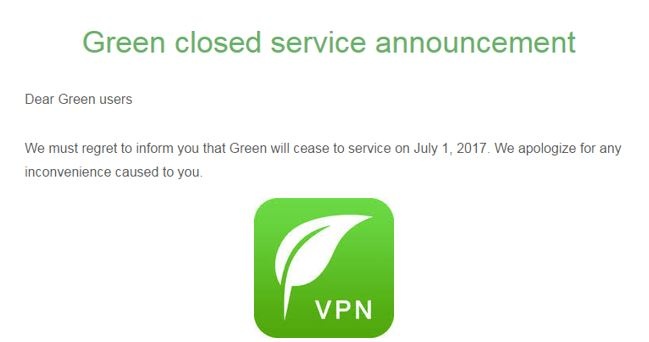 China's VPN crackdown has been continuing. The new victim is GreenVPN, one of the most popular and reputable VPN companies based in China.
Recently we learned that GreenVPN is shutting down due to new regulations from the Chinese government, which announced earlier this year that China-based IT company cannot provide VPN services to their customers without the license from the government.
This new rule doesn't affect VPN users in China. But it does affect VPN companies in China. Apparently GreenVPN's shutdown was because of this new restriction.
On GreenVPN's official website as well as on its mobile apps, this Chinese VPN provider announced that their VPN services will be shut down on July 1st 2017. Their current customers will be able to get a refund if they send out their refund request within a certain time.
It's a sad news to many China VPN users. Using VPN in China has been more and more harder. As local VPN companies will be shut down one by one, VPN users in China must switch to use foreign VPN services targeting China internet users. We think this trend will continue.
For people looking for a good VPN for China, there are some websites that test and review VPN services from China. VPNDada.com is one of those services. We were told by VPNDada.com that the Chinese government has been actively blocking VPN traffic in China and using a VPN is getting harder in this country.
We don't know when the situation with using VPN in China will improve (it seems to be getting worse!). Let's hope we can at least still have some working VPNs to use in China.